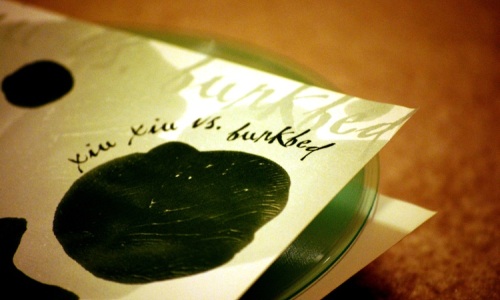 Xiu Xiu's Jamie Stewart has done a few 7-inch splits where he covers the other artist and vice versa. There's one with Devendra Banhart and another where Xiu Xiu and Paper Chase do covers of Nick Cave. Here, Xiu Xiu covers "Fake Soul" by Bunkbed. On the other side, Bunkbed covers "Fallen Angel II" by Xiu Xiu. Both tracks are down-tempo and quietly beautiful.
"Fake Soul" is similar to many of Xiu Xiu's lighter songs. However, Stewart's soft vocals remain consistently near a whisper, never quite reaching the painful screams that are one of his beloved signatures. Still, it is a reputable version of the Bunkbed song.
When I first heard Bunkbed's version of "Fallen Angel II", I fell instantly in-love with the group. The light piano, mellow strings and discreet bass drum are brilliant amidst harmony male and female vocals. Sadly, Bunkbed's Keith Krate passed away in September, 2002. "Fallen Angel II" was the final song they recorded and is exclusive to this sold-out 7-inch pressed on clear, misty-green vinyl.
This review was originally published August 11, 2006 on the old version of FensePost. Most recently, Xiu Xiu Vs. Bunkbed was featured on Cover Art, FensePost's visual site.
Turn Records [7″ Single, 2004]
1. Xiu Xiu: Fake Soul
2. Bunkbed: Fallen Angel II