Despite the Shaun Cassidy sounding album title, 28 Degrees Taurus have developed a beautifully disturbing gem of a second album with How Do You Like Your Love? This is Bill Burroughs' life woven into an east coast inspired ambient frenzy. It is a dozen bennies swallowed with strong black coffee after thirty six restless hours. It's a bit crazy, yet so controlled that all ingenuity is recognizable and brewed to a perfect infection.
The opening cut "Single Suicide Mode" makes it as clear as Andrew W.K. that they want to party, live, drink, and destroy any inhibitions that may hold them back from pure and unadulterated defilement. Save for the fact that 28dt are good musicians and don't sound like a douche-bag who sucks in car exhaust for fun. And this is just peachy. And like the end of most experiments in said defilement, the closing track "Moments, Phases & Timings" is a reflective and deeper distortion of the thing we hold dear beyond the insanity that usually tends to reign supreme.
28 Degrees Taurus are no milestone in the world of new age ambient rock. But, they can surely hold their own. They write magnificent songs that are definitely astrologically in line (sorry, these references ARE necessary) with the new constellation of rising talent across time and space (too much?). Masterminds Karina and Jingen surely seem to love and care about the art they create and this is certainly a leg to stand on in these indigenous periods of disembodied poetics and lack of social relativity.
28 Degrees Taurus: Low Light [mp3]
[audio:090908-28_degrees_taurus-low_light.mp3|titles=Low Light|artists=28 Degrees Taurus]
28 Degrees Taurus: Waves Of Love [mp3]
[audio:090908-28_degrees_taurus-waves_of_love.mp3|titles=Waves Of Love|artists=28 Degrees Taurus]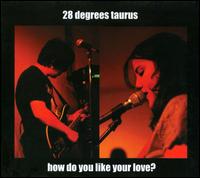 [CD, 2008]
1. Single Suicide Mode
2. Waves Of Love
3. Something To Feel
4. Crash & Burn
5. Low Light
6. Wherever You Can Find It
7. Love Is Underwater
8. Mo's Place
9. Freeze, Die, Come Back To Life
10. Endless Sea
11. Moments, Phases & Timing